We all have a tendency to think desk - think rectangle. With a delta desk you get so much more than a different shape.
Delta desking provides some distinct advantages when compared to the more traditional desk formats.  Our 120° delta desks can be formed into clusters to accommodate large groups of people or, combined with other desk shapes, they create unusual arrangements to make the most of the available floor area.
For collaborative working and team building the delta desk can be used to create pods of activity so that teams gain a sense of working together.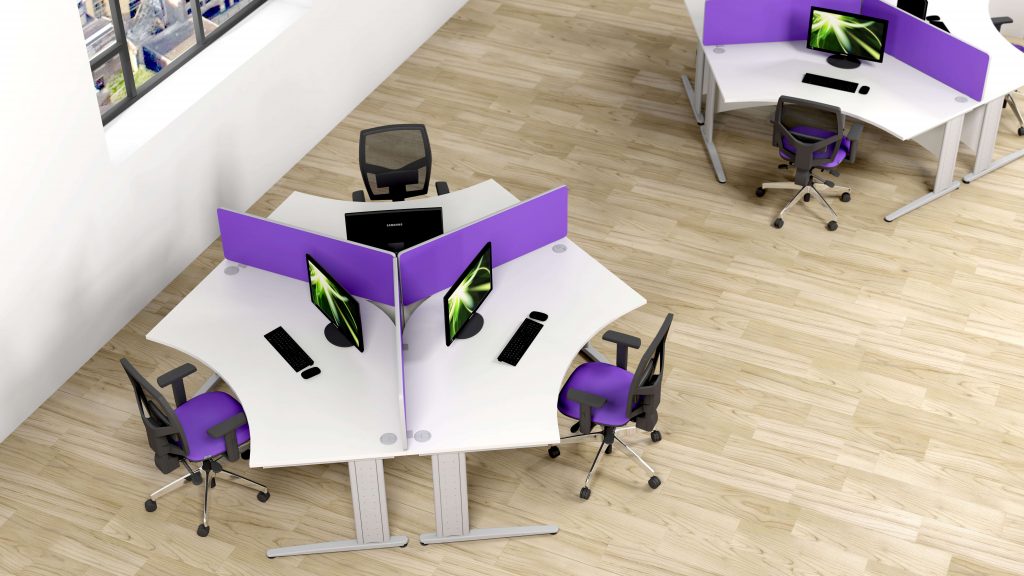 One of the lesser known benefits of delta desking is the natural acoustic benefit the shape provides due to the central placement of the monitor, which is in the optimum position to block sound as it travels towards the opposing desk. Desk mounted partitioning screens can be used to block the path of sound towards adjacent desks.
Delta desking is available in our Atmosphere and Duty ranges
They are available in our standard finishes and either silver or white metalwork. In Atmosphere, three types of leg are also available to choose from: metal infills, metal overfills and wood infills.
If you would like to specify delta desks for your project and we can help with layout planning. Please speak to your Account Manager, or call our friendly Customer Services team on 01953 453830.