For many people, their place of work is no longer a single physical location. Home working, long distance teams, and flexible working hours and days, enable businesses to recruit the best staff wherever they are based.
Staff are working from their cars, transport terminals, coffee shops and even from the beach! Improved broadband infrastructure, coupled with rapid developments in mobile technology mean that people can work almost anywhere, at any time. However we believe there will always be a need to 'return to base', and ensuring that visiting staff feel a welcome part of the team is essential to morale; it is no longer acceptable to just park them in reception, or at the end of someone else's desk for the day!
There are many ways we can adapt to this flexible workforce, ensuring the best use of space, whilst at the same time making sure everyone feels welcomed and has a productive work space when they need it.
'Hot Desks'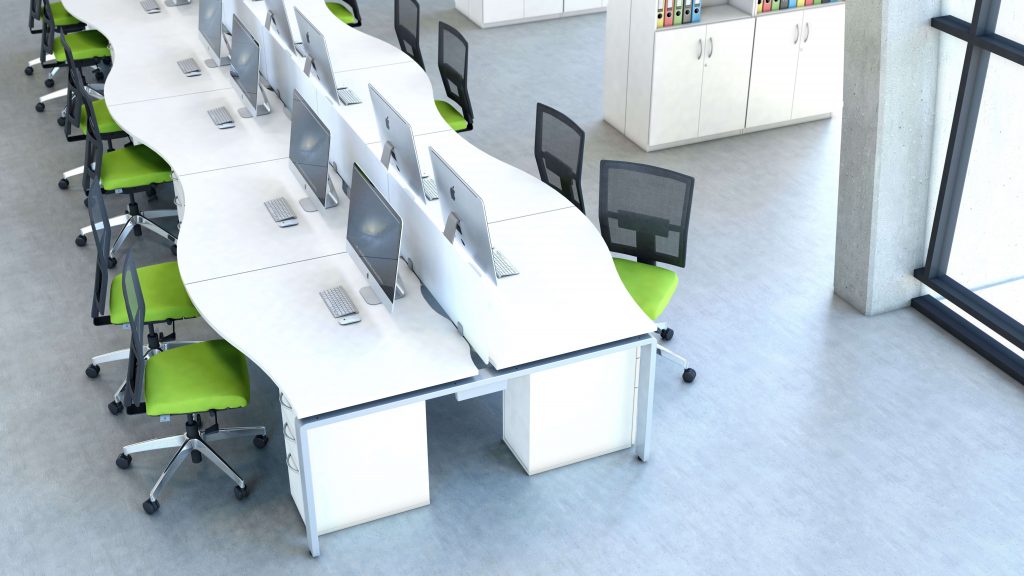 Whilst hot-desking has not always received a good response from staff who need a permanent base, if you have a large remote team, it is a great way to ensure your office can expand and contract.  By allocating a percentage of hot desks within your floor plan, you can provide mobile workers with a dedicated space to 'touch-down' when they visit the office, and for static staff these flexible areas can double as collaborative work spaces for specific projects or meetings.
However, the mobile workforce is not only comprised of travelling sales personnel and staff that work flexible hours. It has in fact become quite difficult to clearly define the 'mobile worker' because technology has blurred the boundaries between the home, the field and the office.
Where there is a culture of trust and innovation, the technology exists for many more employees to spend their work time away from the office. The modern office is a dynamic space with less designated personal space and more communal areas for staff to congregate and collaborate.
The dynamics of the workplace will continue to change; in a generation we have moved from individual office, to the open plan space, and now increasingly, lead by the creative sectors, the flexible break out area. Staff productivity is not judged by how many hours they sit at a desk, but by the contribution they make to projects.
Trends come and go, but the one constant is change, and in the end, what works best is as individual as our clients. In reality, a broad mix of options works best, so from our bench desks to our media booths, we can help you specify the best mix of furniture for your specific project and client. At Lee and Plumpton we continue to evolve to meet our clients' needs.
If you would like assistance with space planning to incorporate new ways of working contact your Account Manager or call our Customer Services team on 01953 453830